Drum Pads 24 - Music Maker
3.7
Drum App – Create Music That You Like
If you love the concept of finger drumming and want to learn the art of beat mixing then this drum app is the perfect training ground for you. Drum Pads 24 – Music Maker is a fun app which gives you the chance to create music on your phone and mix beats to make awesome tracks. It lets you express your talent and create sounds that you like. You are offered various sound packs with which you can begin making personalized tracks. Using the editor feature, you can easily create sound packs of your own too. Moreover, you can seek guidance and inspiration from the high-quality music samples that are provided in this app. You can even record your music sessions and then share them with other people.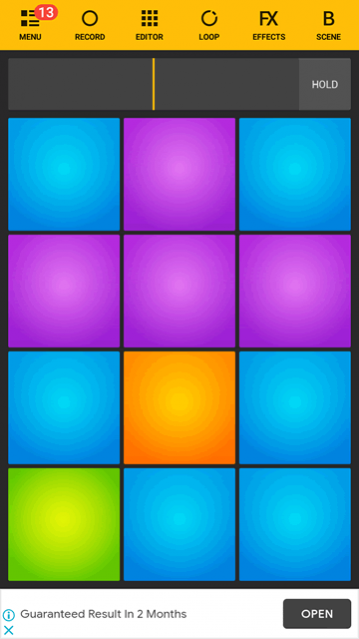 Drum Pads 24 – Music Maker has a user-friendly interface which makes using this drum app an easier proposition even for novice musicians. The layout of this app has been intuitively designed which simplifies the task of navigating the app's features. On the home screen, you will find a drum pad located in the center. The different tools that this app provides for creating music are lined up on the top of the screen. These tools include Record, Editor, Loop, Effects, and Scene. Each tool helps you in creating the sounds and music that you are interested in. However, among them, the Editor tool is by far the most important. It lets you edit sound packs and create customized versions that can then be used for making tracks.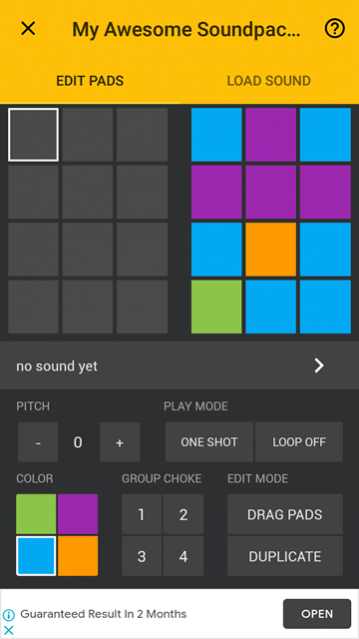 This drum app provides 24 pads for you to practice your finger drumming skills. There are 12 pads located on the home screen while the other 12 can be viewed by clicking the Scene icon located at the top-right corner of the screen. You can switch between the A and B scenes to play all the 24 drum pads with your fingers. Each time you strike a pad, it lights up and produces its corresponding sound. You can change the sounds produced by each drum pad in the Editor section. This can be done by loading the sound that you want the pad to produce when you strike it. Moreover, you can also change the color of the drum pads as per your preferences too.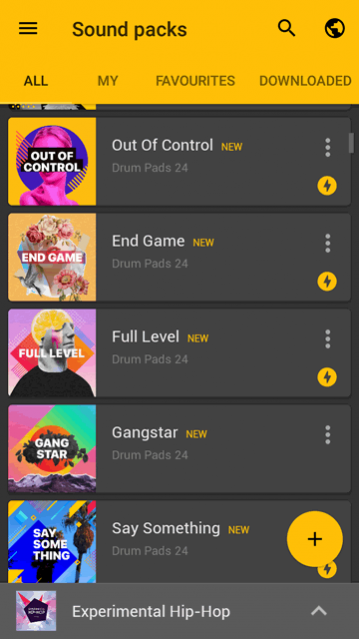 Drum Pads 24 – Music Maker provides a Step Sequencer to you as well. It allows you to create beat loops. There are instructions given to you every step of the way so that you can easily learn how to use the Step Sequencer. These instructions are in the form of visuals and do a good job of explaining how everything works. This drum app also offers various audio effects to you as well. You can add them to your tracks by a mere tap of a button. All the editing work you do on your sound packs and tracks gets automatically saved when you close the app. If you plan on sharing your music sessions with other musicians then you can record your music sessions using the record tool.
Features:
User-friendly interface
Intuitive design and layout
Music samples available in high quality
Popular EDM sound packs on offer
24 pads divided into two scenes
Various audio effects to add to your tracks
Create beat loops using the Step Sequencer
Editor feature for creating customized sound packs
Option to record your music sessions
Share your music sessions with others
Video tutorials on offer to hone your skills
Conclusion:
Drum Pads 24 – Music Maker is an app which will primarily appeal to people who have an interest in playing drums and creating music. It provides them the opportunity to create sounds, mix beats and practice their finger drumming skills. It is a drum app worth having on your phone if you aspire to become a DJ when you grow up.
---
Add a review
Tell us your experience with
Drum Pads 24 - Music Maker
3.7
RELATED PROGRAMS
Our Recommendations
---
---
---
---